This year's LiM 2023 conference was a great success and also an excellent stage for the IFSW. During the four-day event, scientists from all over the world travelled to Munich to share the latest findings on laser material processing. Divided into different sessions, macro topics such as joining, cutting, or simulation, micro topics such as surface structuring or processing of semiconductors, and additive topics such as LPBF, or system development were presented. The IFSW was able to excel with an impressive 17 presentations, which were represented in all subject areas.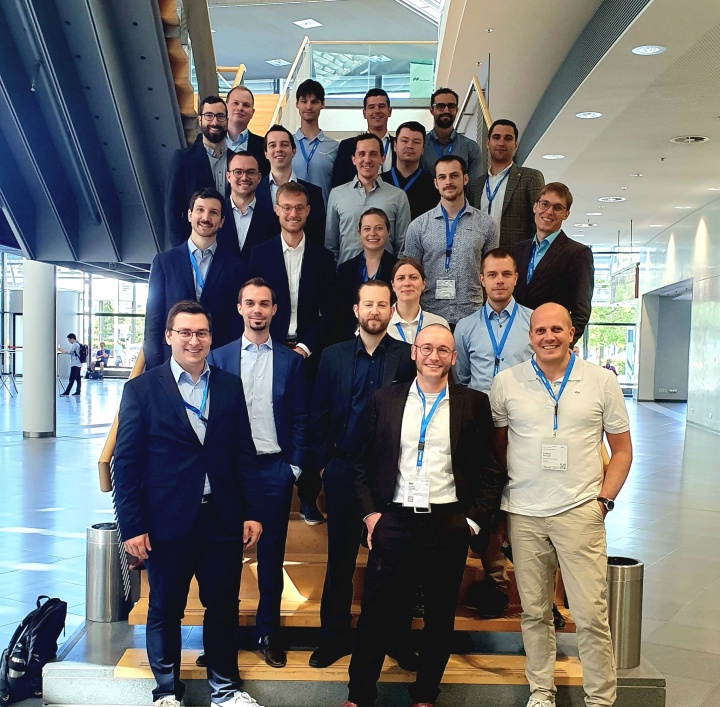 Macro
In the macro sessions, the topic of beam shaping took on a major role, addressing the question of how the new technologies can be used in a meaningful way. In an interesting presentation, Eyal Schekel, CEO of Civan Lasers, explained the technology behind the Civan laser, which is based on the principle of Coherent Beam Combining. This allows the laser beam to be freely positioned within a certain field on the workpiece surface. In addition, the position of the beam can be changed within nanoseconds. The exploitation of this exciting and complex technology can be further explored by the IFSW with a Civan laser in its own facilities in the coming years.
Represented by IFSW: Prof. Michalowski, Haas, Jarwitz, Michel, Reinheimer, Sawannia, Strohl, Traunecker, Wagner, Wahl, Zaiß
Micro
The Micro sessions were amongst others dedicated to different aspects of silicon processing. Strategies for different processing methods were presented. Another central topic in many talks was the application of laser pulses, which are divided into several sub-pulses with a high repetition rate, so-called GHz bursts. Drilling processes were also discussed in detail. The talk by Manuel Henn, who presented the results of X-ray diagnostics of drilling experiments at the German Electron Synchrotron (DESY) in Hamburg, deserves special mention. The videos shown provide fascinating insights into the formation of micro holes, the influence of the polarisation on the drilling process and the interaction between the laser radiation and the material.
Represented by IFSW: Henn, Holder, Holland, Placzek
Additive Manufacturing
The sessions on additive manufacturing primarily covered powder- and wire-based processes. The focus was on material properties, image processing techniques and process control. Innovative techniques and research were presented in the talks, highlighting the potential of additive manufacturing. The importance of understanding material properties, including the development of customised alloys and the influence of nanoparticles in the powder, was highlighted.
Represented by IFSW: Brinkmeier, Boley
We are looking forward to what will be presented in two years.
And for those who don't want to wait that long: The Stuttgart Laser Technology Forum - SLT will take place from 4 to 6 June 2024 at the fair in Stuttgart, will hence last 3 days and the traditionally invitation-only talks will now be extended by contributed presentations. The call for papers will follow soon.